October 28, 2005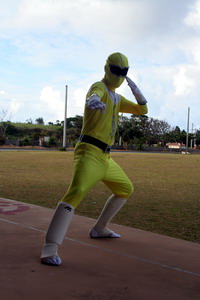 Some things:
In the week before Tokyo, on returning to the island for taiko practice, I finally had the opportunity to dress up as a superhero. It was the annual triathlon, and so I – along with four others – had the important job of dressing as a superhero and giving people high-fives as they got off the boat.
My new job has been going fine so far.
Lately, the thing I have been waking up in a cold sweat about is that I appear to have agreed to participate in NaNoWriMo — or 'National Novel-Writing Month'. Which means writing a 50,000 word novel in one month, the idea being to stop pretending that you might write something perfect one day, and just get on with writing something imperfect-but-actual. Which I think is a nice idea, but there is another part of my brain that balks at the prospect of spending a month writing a pile of complete balls. Still, it should be an interesting experiment, and I'm hoping the fact that a couple of friends are doing it as well will make it a fun one too. And I am explicitly reserving the right to bail out and cut my losses if the first 10,000 words I write turn out to be utter, utter rubbish.
So… is anyone else up for writing a novel?
Incidentally, part of the reason I want to do this is because I've been wanting to make some music under a tight time-constraint for a long time, and I think this could be a nice (though in almost every way scarier) dry run (the music thing will wait until I get back to the UK). This idea was partly inspired by reading the Crap Art Manifesto of a certain Mr. Tom 7 (who makes both free fonts and free music software that I sometimes use, and which I was shocked one day to discover were the work of the same person). Tom 7's idea of an 'Album-A-Day' is possibly taking things a bit too far in terms of quantity over quality (although it's something I'd like to try one day too), but I think an Album-in-a-Month (NaNoWriMo style) would be a pretty exciting thing to try…