May 13, 2005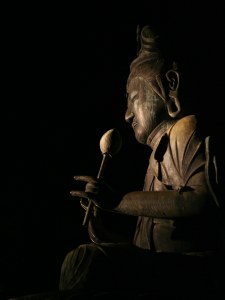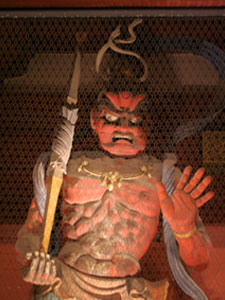 I met Andrew in a café in JR Ueno station, and we proceeded from there to wander around Tokyo for three days or so. We stayed in the Hotel New Koyo, which is almost certainly the cheapest hotel in Tokyo, at about 2700 Yen a night (about £13). It's ok, too — it does the job. From that base, we spent several days wandering through Shinjuku, Shibuya, Asakusa and Ginza. Although we did manage a day-trip north to see Nikko's waterfall and temples, for the most part the touristy stuff we tried to do (going to museums, kabuki, etc) ended up falling through for obscure reasons. One afternoon, in an attempt to see at least one museum, we decided to seek out the Tobacco and Salt Museum in Shibuya — partly because it was the nearest museum to the café we were sitting in, partly because it sounded so far off the beaten track that we thought the Tourism God might overlook it and let us through. No luck: we found it to be apparently non-existent, or at least not where our map claimed it was.
But to be honest, the tourist stuff is never the bit that I enjoy the most anyway. We did a good job of the more important business of wandering around the streets and tunnels and walkways of Tokyo, and sitting in cafés and eating foods. We also visited one of my favourite places in the city (a place I now find is called "Piss Alley"): a couple of alleys of old ramshackle buildings tucked in the armpit of a railway bridge behind Shinjuku station, a pocket of the Tokyo of about five decades ago among the skyscrapers of Shinjuku, full of noodle shops and little bars, steam and smoke and the smell of things barbecuing, and so narrow and with so much cabling overhead that it almost feels as if you're underground until you look up through the cables to huge and distant neon.
The photos were taking walking around the grounds of Asakusa Temple after an almost-perfect meal of okonomiyaki — savoury pancakes which you fry yourself on a hotplate set into the table, and then cover with lots of mayonaise, dried fish flakes and salty preserved ginger — and cold beer in a little restaurant nearby.