April 6, 2007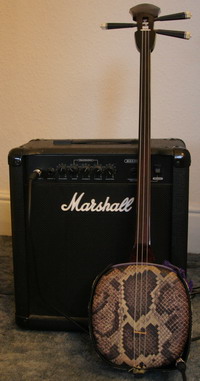 Last week I finally got around to installing the electric pickup that I bought when I bought my sanshin a couple of years ago. Which means I can now plug my sanshin into a guitar amplifier and play Okinawan folk songs at unprecedented, cutting-edge volumes, should I so wish. I can also, more importantly, do things like record it more easily, put it through guitar effects pedals, and play with other, louder musicians.
It was a musical weekend, too. Having hardly played guitar in public at all in the last few years, I played twice in one weekend. On Saturday my sister's theatre company put on a cabaret to raise money for a play they're planning to put on in the summer. My friend and band-mate Jess lent her harmonies to an old song of mine. It was a very nice evening. I love a cabaret.
On Sunday, Jess put on an acoustic gig at her actual house to raise money for the mental health charity she works for. A bunch of people came to listen to songs, eat battenburgs, and drop money into cans. For the sake of variety, I brought along my sanshin and played the old Okinawan song "Asatoya yunta" (安里屋ユンタ) — somewhat incompetently, it has to be said, but heck, I think even an incompentently-performed Okinawan folk song is still usually better than no Okinawan folk song.
…I just found an Eisa group playing a nice version of Asatoya yunta on YouTube. (The music doesn't actually start until about 40 seconds in but it is well worth the wait).