October 6, 2005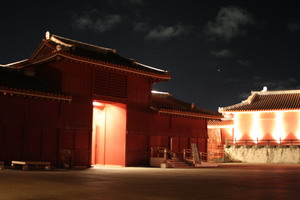 With only a few days left in Naha, most of my time lately has been taken up with (1) failing to pack, and (2) taiko practice. The reason for (2) is the still-hard-to-believe fact that I will now be playing in the Tokyo International Taiko Contest in ten days' time. On Saturday I will be going back to my island for one final week of solid taiko practice, and thence to Tokyo, and thence… I don't know — my plans have been going wonky lately. Probably China, if plan A still be the plan.
Last night I went up the hill to Shuri Castle — once the seat of the Ryukyu kings, before Okinawa was finally swallowed completely by Japan. Almost entirely destroyed in World War II, but painstakingly reconstructed, the castle is beautifully lit at night and sits on a hill with a great view across Naha to the Kerama islands. It also looks very like a scaled-down version of Beijing's Forbidden City — an indication I guess of how much closer old Okinawan culture was to China than Japan. (Incidentally, the picture above is one of the gatehouses — not the castle itself. I just liked the way the light came out in this one).
I've been to the castle several times before, but never at night. Night is a good time for castles.