April 26, 2005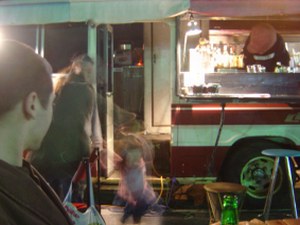 Argh, keep meaning to write but time seems to have been slipping through my fingers lately — I've been having a busy month, and have been off-island most weekends. At the end of March, Graeme came from Tottori prefecture, on Honshu (the largest of Japan's main islands), and we had an excellent, though sleep-deprived time wandering around Naha and the island. Just as he left, Alex came over from Sapporo with his friend Mark, and while they were here we went to an uninhabited island and a concert by my friend Teru's metal band, which was ripping. So long since I've seen a live band, let alone a face-melting rock band!
This picture was taken the day Alex and Mark arrived – the day before Graeme left. The four of us sat at an outside table in front of a little bus that is actually a bar, and drank cold drinks in the warm evening. That morning Alex and Mark had been in the sub-zero temperatures of Hokkaido. The couple who run the bus/bar have a two-year-old daughter who already seems to know almost all the dance moves. She danced in front of the bus the whole time we were there, waving drumsticks around and obviously revelling in the attention, and posing for our photographs. Too cute. She's the little spinning blur in the middle.
And soon: more visitors! On Thursday I'm going to Tokyo to meet Andrew, who is coming from far away on another part of the Earth's surface.