March 9, 2004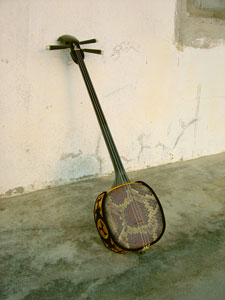 Well, I don't know about you, but I just had a really good weekend.
In fact the portion of time I am considering 'weekend' starts last Thursday, because I went to a language and culture conference in the big city, which meant two days of learning Japanese and sanshin (Okinawan banjo) instead of being at school. Nice.
On Wednesday, though, it looked like I wouldn't be able to leave the island. The boat stopped running on Tuesday afternoon, due to high winds and five meter waves, and when I called the island's airport, both Wednesday and Thursday's planes were full. Luckily, someone cancelled on Wednesday night, and the bloke from the airport called me back to let me know. (There's a great thing about living on a small island – people know who and where you are. That can be a disadvantage, too, but when it comes to 'I need to get off the island' emergencies, it's pretty handy. The bloke who runs the airport, by the way, also runs the island's rent-a-car business. The airport is so small that running it single-handedly isn't a full-time job).
So, half-noon on Thursday saw me climbing into the Okinawan skies on board a twin-engined eight-seater propellor plane which I shared with seven men in the pale blue overalls that all manual workers in Japan seem to wear, en route for the big city. Thursday afternoon was spent learning to read sanshin score – much easier than reading Western notation, since I've tried and failed to learn that several times but was beginning to get the hang of reading for the sanshin by half-past-four. (It helps that there are only twelve notes, and you only play one at a time).
In the evening, rather than be sociable and go out with all the teachers, I just went out to get something to eat and drink with Leigh, a friend who lives in the big city. After a few drinks in a German beer place, Leigh offered to give me a walking tour of the dingy area where all the interesting bars are. Leigh is a semi-professional photographer, and so has an eye for strange, tucked-out-of-the-way places, and as we walked, he described to me the building he wanted to show me – a place that had been a pachinko (Japanese pinball) parlour in the 1950s, and was covered in so many neon tubes that, though it's tucked down a side street in Naha, Okinawa, must once have rivalled with its equivalents in Shinjuku, central Tokyo. And he's right – it must have done, but now it's a dirty concrete building covered in cracked, dead neon tubes and peeling fly-posters, and surrounded by tiny, unwelcoming bars. I was looking up and down the front of it, at the huge faded letters painted on the concrete frontage, and the posters covering the now shuttered-up ground floor, when Leigh said, "Well – what do you think? Do you want to go in?" "Go in? – what? In here?" I asked. "Yeah," said Leigh, "that's the door." He was pointing to the grubby shutters right in front of me. And there – though I hadn't even noticed it – was a tiny door, less than five feet high, and half-hidden by gummed-on, cheaply-photocopied adverts for club nights.
So we pushed open the tiny door, and ducked through it, into a small, dark space in which I could see nothing, but could hear voices and soft reggae music playing somewhere nearby. Up a very small flight of stairs, and we found ourselves in a dark, warmly-lit bar, with lots of windy metal shapes and a few hip Japanese people in beany hats. We ducked through a four-foot hole that seemed to have been punched through a wall, and sat down in an unlikely-shaped, low-ceilinged alcove, lit by a single yellow light bulb. A strange but beautiful secret pub, hidden in an apparently abandoned amusement arcade – the kind of place I visit in my dreams.
After we left the pub, we wandered through a maze of twisty little alleyways, peering through half-closed doors into bars about the size of a not-particularly-large bathroom. Bars in Japan seem to work on very different commercial principles to those in the UK: whereas UK bars and pubs for the most part try to be visible, and to draw in new customers with things like special offers and looking welcoming, bars in Japan often seem to follow almost the reverse principles – they are tiny, exclusive, and often expensive. I suppose they must rely on building up a bunch of reliable regulars, and don't care much about attracting new customers. That this is the case is suggested by the fact that some Japanese bars allow you to buy a whole bottle, write your name on the label, and then they keep it for you under the counter for whenever you drop in (this is something I've heard about rather than seen, so I don't know how widespread it is, but as far as I know, this practice doesn't even exist in the UK…)